---
Welcome to the Richmond First Club. Join our members and guests for our series of speakers, the second Wednesdays of the month, at noon at Willow Oaks Country Club, see calendar at left. The club's purpose is to generate conversation among knowledgeable regional leaders and residents on current topics of civic and public affairs.
---
June 14
John Vithoulkas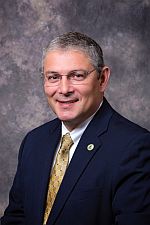 John Vithoulkas joined the Henrico County general government team in 1997 as a budget analyst. He was promoted to Budget Director in 1999, and the Director of Finance in 2007. In September of 2009, he was named Special Economic Advisor to the County Manager while continuing to serve as Director of Finance. In December of 2011, he was appointed as the Deputy County Manager for Administration.
On August 14, 2012, he was unanimously appointed County Manager by the Board of Supervisors and sworn into office on January 17, 2013. He is the eighth County Manager since Henrico adopted the County Manager form of government in 1934.
As the County's chief administrative officer, Mr. Vithoulkas has overall responsibility for the County's general government operations, a Approved Annual Fiscal Plan 2013-2014 of over $1 billion in operating and capital budgets, and a work force encompassing more than 4,000 general government. He directly supervises four Deputy County Managers and the County Attorney as well as the directors of several County agencies, including the Office of Internal Audit, the Divisions of Fire and Police, and the Departments of Human Resources and Public Relations & Media Services./p>
Vithoulkas, a naturalized citizen, is a native of Greece who immigrated to the United States as an infant with his parents. A product of Henrico County Public Schools, he is a graduate of J.R. Tucker High School. He earned a bachelor's degree in political science from Virginia Commonwealth University in 1989 and a master's degree in public administration from the University of North Carolina at Charlotte in 1992. Before joining the Henrico staff, he worked as a police planner and assistant budget director for Gaston County, N.C. and as a budget analyst for Chesterfield County.
A graduate of Leadership Metro Richmond, Vithoulkas is a member of the Government Finance Officers Association, International City/County Management Association, Virginia Local Government Management Association and Richmond Association for Business Economics. He holds the distinguished budget reviewer designation from the Government Finance Officers Association.
Vithoulkas lives in Glen Allen with his wife, Jenny, and their three children.
---
RFC Takes on Redistricting - click for news and information.
Richmond First Club
Monthly Luncheon

June 14 - John Vithoulkas

The public is cordially invited to join us at our next Lunch Meeting.


Willow Oaks CC - 6228 Forest Hill Avenue., Richmond, VA
$25 general public and the public/ $20 for members
Reservations, email: emglazier1@gmail.com or call 804-358-0011.

Membership Application click here.
Meetings are held the second Wednesday of each month unless otherwise noted. The public is invited to attend.
Missed one of our Meetings?
Click for summary of previous speaker presentations.
RFC board meeting - immediately after regular meeting.