---
Welcome to the Richmond First Club. Join our members and guests for our series of speakers, the second Wednesdays of the month, at noon at Willow Oaks Country Club, see calendar at left. The club's purpose is to generate conversation among knowledgeable regional leaders and residents on current topics of civic and public affairs.
---
Luncheon Speakers Mar. 8 - Sen. Jennifer McClellan (D-Richmond) and Sen. Glen Sturtevant (R-Chesterfield), co-chairs of the revived Capital Region Caucus, who will report progress on state and regional issues of common interest in the just-concluded session of the General Assembly.
Mar. 8
Sen. Jennifer McClellan and Sen. Glen Sturtevant, co-chairs, Capital Region Caucus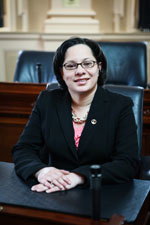 Jennifer McClellan was elected to the state Senate in a special election in January. She was elected to the House of Delegates. She serves on the House Commerce & Labor, Courts of Justice, and Education Committees. She holds leadership positions as Chair of the Dr. Martin Luther King, Jr. Memorial Commission, Co-Chair of the Fire/EMS Caucus and Vice Chair of Outreach for the House Democratic Caucus.
She is a member of the Virginia Crime Commission (Executive Committee), the Virginia Conflicts of Interest and Ethics Advisory Council, the Virginia Legislative Black Caucus. In 2014, Governor McAuliffe appointed her to the Legislative Advisory Council of the Southern Regional Education Board. Since 2008, she has been a guest columnist for the Richmond Times Dispatch during the General Assembly Session.
Professionally, she is an Assistant General Counsel at Verizon Communications, focusing on state regulatory matters for several states. She is a member of the Virginia Bar Association (VBA) Administrative Law Section Council, and a member of the Virginia State Bar, the Metropolitan Women's Bar Association, the Richmond Bar Association, and the Oliver Hill/Samuel Tucker Bar Association.
Her community service extends to a wide variety of state and local organizations. She is a member of the Boards of the YWCA of Richmond, the Children's Museum of Richmond, Chippenham/Johnston Willis Hospital, the Virginia League of Planned Parenthood, the Moton Museum, Virginia Center on Aging Advisory Committee, and Virginia Premier Health Plans. She is a member of Delta Sigma Theta Sorority, the Junior League of Richmond, the Fan District Association, the Fan Women's Club, the League of Women Voters, and the Richmond Crusade for Voters.
A graduate of the Sorensen Institute of Political Leadership's 2001 Political Leaders Program and 2005 Candidate Training Program, she is was also a member of Leadership Metro Richmond's class of 2004.
A longtime Democratic Party activist and leader at the local and state levels, she is on the Democratic National Committee and a member of the DNC's Resolutions Committee. Her contributions have been recognized by awards from 28 civic and nonprofit organizations since 2002.
McClellan was born in Petersburg and attended public school in Chesterfield County. She received a Bachelor of Arts from the University of Richmond in 1994 and a Juris Doctorate from the University of Virginia in 1997. She is married to David Mills, and lives in the Fan District with their son, Jackson, and daughter, Samantha.
---
RFC Takes on Redistricting - click for news and information.
Richmond First Club
Monthly Luncheon

Mar. 8 - Sen. Jennifer McClellan (D-Richmond) and Sen. Glen Sturtevant

The public is cordially invited to join us at our next Lunch Meeting.


Willow Oaks CC - 6228 Forest Hill Avenue., Richmond, VA
$25 general public and the public/ $20 for members
Reservations, email: emglazier1@gmail.com or call 804-358-0011.

Membership Application click here.
Meetings are held the second Wednesday of each month unless otherwise noted. The public is invited to attend.
Missed one of our Meetings?
Click for summary of previous speaker presentations.
RFC board meeting - immediately after regular meeting.