---
Welcome to the Richmond First Club. Join our members and guests for our series of speakers, the second Wednesdays of the month, at noon (networking at 11:30 and lunch starting at 12:00 noon) at Willow Oaks Country Club, see calendar at left. The club's purpose is to generate conversation among knowledgeable regional leaders and residents on current topics of civic and public affairs.
---
Next monthly meeting: Wednesday, January 10 at noon at the Willow Oaks Country Club
Robin Starr, CEO of the Richmond SPCA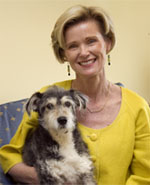 Robin was born in Portsmouth, Virginia, and graduated from Norfolk Academy. She grew up in a family of animal lovers. She graduated with a major in Biology from Wake Forest University in Winston-Salem, North Carolina. After college, Robin went to law school at T.C. Williams School of Law of the University of Richmond where she was editor of the University of Richmond Law Review. Robin practiced corporate law as an in-house attorney with A.H. Robins Company and subsequently with Williams Mullen law firm, where she was a partner in the business and corporate law section and specialized in mergers and acquisitions.
Robin left the practice of law to become the CEO of the Richmond SPCA in 1997. Shortly thereafter, the Board of Directors adopted a plan for the future of the Richmond SPCA that was very progressive and ambitious. The plan envisioned that the organization would focus its resources and efforts on transforming Richmond into a no-kill community and would create a new humane center with an on-site spay/neuter clinic and educational facilities. Robin worked with board leadership to make that plan a reality over the next four years. In recognition of Robin's contributions to the fulfillment of the plan, the Robins-Starr Humane Center bears her name along with that of E. Claiborne Robins, Jr., chairman of the Capital Campaign and former board chairman.
Under Robin's leadership, the Richmond SPCA realized the goal it set at the outset of transitioning to a no-kill model. A full two years ahead of the original 2008 goal, it was announced that no healthy, homeless animal died in the city of Richmond during the 2006 calendar year. Never again will a healthy dog or cat die in the city of Richmond simply because he is orphaned. Robin's vision in developing the lifesaving programs and services that led to this accomplishment has made her a sought-after speaker at several national seminars. Through ASPCA Mission: Orange, the Richmond SPCA has become a learning laboratory for other communities across the country seeking to adopt the Richmond model. Robin also travels to consult with communities seeking to replicate the progressive model that has made Richmond one of the four safest places in the country for homeless pets.
Robin is also a trustee of the Richmond Ballet and a member of the Virginia State Bar.
---
RFC Takes on Redistricting - click for news and information.
Richmond First Club
Monthly Luncheon

Wednesday, January 10

The public is cordially invited to join us at our next Lunch Meeting.


Willow Oaks CC - 6228 Forest Hill Avenue., Richmond, VA
$25 general public and the public/ $20 for members
Reservations, email: emglazier1@gmail.com or call 804-358-0011.

Membership Application click here.
Meetings are held the second Wednesday of each month unless otherwise noted. The public is invited to attend.
Missed one of our Meetings?
Click for summary of previous speaker presentations.
RFC board meeting - immediately after regular meeting.