---
Welcome to the Richmond First Club. Join our members and guests for our series of speakers, the second Wednesdays of the month, at noon at Willow Oaks Country Club, see calendar at left. The club's purpose is to generate conversation among knowledgeable regional leaders and residents on current topics of civic and public affairs.
---
Luncheon Speaker Jan. 18 - Shannon Valentine
Jan. 18*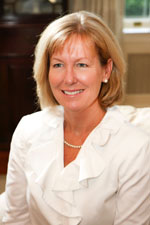 Shannon Valentine is a leader in civic areas important to members of the Richmond First Club: redistricting, transportation--including intercity rail--and transparency. First, she is Co-Chair of the OneVirginia2021 Advisory Board. She previously served as President of the OneVirginia2021 Foundation, and as the Chair of the Transition, responsible for creating the OneVirginia2021 organization that launched in February of 2014.
Second, she also serves on the Commonwealth Transportation Board, appointed by Governor Terry McAuliffe in May 2014. In January of 2015 she completed an assignment as a Director of the Transportation Policy Council for the Governor's transition team. She is a former member of the Virginia House of Delegates (2006-2010) from Lynchburg, whose legislative priorities included ethics, economic development, education and transportation.
As a legislator, she led the bipartisan effort to invest in intercity passenger rail service for the first time in Virginia's history, worked to expand clean energy production, and created the first comprehensive legislative study of autism, which continues to serve as a blueprint in Virginia today.
Third, Shannon demonstrated a strong commitment to open, honest, transparent government. She sponsored legislation and a constitutional amendment creating a bipartisan redistricting commission, introduced legislation strengthening campaign finance disclosure, and served as chief co-patron of the House Rule that requires recorded votes in subcommittees in the House of Delegates.
Shannon currently serves as Vice Chair of the Sorensen Institute for Political Leadership at the University of Virginia, and Chair of Investor Relations for Beacon of Hope, an organization dedicated to inspiring and preparing students in Lynchburg City Schools for post-secondary education. Married to Dr. Mike Valentine for 26 years, they have three children, Catherine, Jack and Brooke.
* Note: This meeting is on the third Wednesday of the month.
---
RFC Takes on Redistricting - click for news and information.
Richmond First Club
Monthly Luncheon

Jan. 18 - Shannon Valentine

The public is cordially invited to join us at our next Lunch Meeting.


Willow Oaks CC - 6228 Forest Hill Avenue., Richmond, VA
$25 general public and the public/ $20 for members
Reservations, email: emglazier1@gmail.com or call 804-358-0011.

Membership Application click here.
Meetings are held the second Wednesday of each month unless otherwise noted. The public is invited to attend.
Missed one of our Meetings?
Click for summary of previous speaker presentations.
RFC board meeting - immediately after regular meeting.