---
Welcome to the Richmond First Club. Join our members and guests for our series of speakers, the second Wednesdays of the month, at noon (networking at 11:30 and lunch starting at 12:00 noon) at Willow Oaks Country Club, see calendar at left. The club's purpose is to generate conversation among knowledgeable regional leaders and residents on current topics of civic and public affairs.
---
Richmond First Club will hold its monthly luncheon meeting on Wednesday, May 9, 2018, with networking at 11:30 am and lunch at 12:00 noon.
May 9, 2018
John F. "Jack" Berry, Jr. - President and CEO, Richmond Region Tourism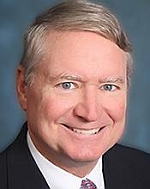 Jack Berry was raised outside of Chicago. He graduated from Georgetown University in 1974. In 1975 he moved to Salisbury, Maryland, to work for the Independent Players Association. Its executive director, the late Bill Riordan, managed Jimmy Connors, and Ilie Nastase, and promoted an indoor men's professional tennis circuit
In 1979 Norfolk SCOPE hired Berry as the promotion and sales manager of the multi-purpose facility. He moved to Richmond, Virginia in 1988 to become director of marketing & sales for the Richmond Centre for Conventions & Exhibitions. The city promoted him to general manager in 1990. In December 1992, he was named president & CEO of the Richmond Metropolitan Convention & Visitors Bureau - today known as Richmond Region Tourism.
Berry is a member of the Richmond Strikers Soccer Club, Jefferson Davis Association, Retail Merchants Association, James River Advisory Committee, Virginia Green Board of Directors, and chairman of the board for Virginia Civil War Trails.
His wife, Lynn, is a Norfolk native. They have three adult children: John III, Elizabeth and Rachel.
A list of boards, committees and community Involvement Includes:
Carver College & Career Academy Executive Advisory Council
Chesterfield Sports Tourism Advisory Committee
Henricus Board of Directors
James River Advisory Task Force, Committee Member
Jefferson Davis Association Board of Directors
Maymont Foundation Board of Directors
Retail Merchants Association Board of Directors
Richmond Strikers Soccer Club, Inc. Board of Directors
Virginia Civil War Trails, Chairman of the Board
Virginia Green Board of Directors
---
RFC Takes on Redistricting - click for news and information.
Richmond First Club
Monthly Luncheon

Wednesday, May 9, 2018

The public is cordially invited to join us at our next Lunch Meeting.

Willow Oaks CC - 6228 Forest Hill Avenue., Richmond, VA
$20 for Members/ $15 First Time Guest/ $25 Repeat Guest/ $25 Public
Reservations, email: emglazier1@gmail.com or call 804-358-0011.

Membership Application click here.
Meetings are held the second Wednesday of each month unless otherwise noted. The public is invited to attend.
Missed one of our Meetings?
Click for summary of previous speaker presentations.
RFC board meeting - immediately after regular meeting.