---
Welcome to the Richmond First Club. Join our members and guests for our series of speakers, the second Wednesdays of the month, at noon at Willow Oaks Country Club, see calendar at left. The club's purpose is to generate conversation among knowledgeable regional leaders and residents on current topics of civic and public affairs.
---
Next monthly meeting: Wednesday, November 8 at noon at Willow Oaks Country Club
November 8, 2017
Karl S. Leonard - Sheriff, Chesterfield County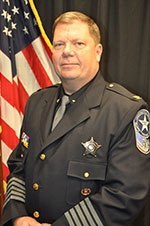 Sheriff Karl S. Leonard oversees one of the largest sheriff offices in the commonwealth of Virginia, for a region of 430 square miles and a population of more than 326,000. The Chesterfield County sheriff's office is composed of a force of almost 300 deputies and 20 civilian employees with an annual budget in excess of $30 million.His duties include oversight of the Corrections Bureau that provides 24/7 security and medical assistance to more than 300 inmates at the Chesterfield County jail as well as the more than 800 inmates detained at the Riverside Regional Jail. He is also responsible for the Operations Board, maintaining a safe environment for business that is conducted within the 17 courtrooms in Circuit, General District, and Juvenile and Domestic Relations courts. In addition, Sheriff Leonard oversees the Support Bureau, which encompasses training, community outreach, human resources and the finances of the sheriff's office.
Sheriff Leonard began is law enforcement career with the Richmond City Sheriff's Office where he was a deputy at the jail, juvenile courts and transportation before moving over to the Chesterfield Police Department in 1982 when he became a patrolman.
He rose through the ranks within the police department to the position of major before his retirement in 2012 with 30 years of service.
During his police career, Sheriff Leonard served as commander of the Uniform Operations Bureau, commander of the Criminal Investigations Division and captain of Uniform Operations. He also served as a patrol lieutenant, sergeant, detective and patrolman.
Sheriff Leonard is qualified as an expert witness in the Use of Force, Accident Reconstruction and Polygraph.
In 2013, Sheriff Leonard began his career with the Chesterfield County Sheriff's Office and on Feb. 1, 2014, was appointed sheriff by the Chief Circuit Court Judge of Chesterfield County. The residents of Chesterfield County elected Sheriff Karl S. Leonard during a special election on March 18, 2014. He was re-elected by the residents of Chesterfield on Nov. 3, 2015.
Sheriff Leonard and his wife, Karen, live in Chesterfield, Va. He has five daughters: Ashley and Andrew Knoell and their son Hunter and daughter Maddyn from New York; Megan and Joseph Henderson, and their sons Jayden, Kyler and Rexton from New York; Alexandra and Conor from Chesterfield, Va.; and MK3 Lauren Leonard currently stationed in Boston, Mass.
---
RFC Takes on Redistricting - click for news and information.
Richmond First Club
Monthly Luncheon

Wednesday, November 8

The public is cordially invited to join us at our next Lunch Meeting.


Willow Oaks CC - 6228 Forest Hill Avenue., Richmond, VA
$25 general public and the public/ $20 for members
Reservations, email: emglazier1@gmail.com or call 804-358-0011.

Membership Application click here.
Meetings are held the second Wednesday of each month unless otherwise noted. The public is invited to attend.
Missed one of our Meetings?
Click for summary of previous speaker presentations.
RFC board meeting - immediately after regular meeting.