---
Welcome to the Richmond First Club. Join our members and guests for our series of speakers, the second Wednesdays of the month, at noon at Willow Oaks Country Club, see calendar at left. The club's purpose is to generate conversation among knowledgeable regional leaders and residents on current topics of civic and public affairs.
---
Luncheon Speaker Oct. 12, Jay Stegmaier, newly retired Chesterfield County administrator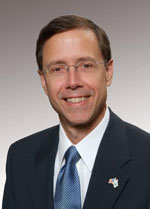 Jay Stegmaier, newly retired Chesterfield County administrator
Edited from a retrospective of his career by By MARKUS SCHMIDT, Richmond Times-Dispatch
When James J.L. "Jay" Stegmaier hung up his hat as Chesterfield County's administrator (June 30), he left a place very different than the mostly rural community where he began his career in public service 37 years ago.
Stegmaier, now 62, came aboard as a young budget management analyst, when Chesterfield was still finding its footing after the annexation of 23 square miles by Richmond in 1970 that left the county with about 77,000 residents. By 1980, that number doubled to 140,000, and continued growing rapidly to about 337,000 today.
"This building wasn't even here," he said during an interview at his office on the fifth floor of the county government complex. "There was a stoplight at Chippenham Parkway and Iron Bridge Road. You didn't see much between here and there. It was like driving down a lonely country road."
He rose to county administrator in 2007, and leaves an operation with 4,000 employees and a budget of $810 million.
"Since I started here, we have evolved into a much more professional organization ... Today, Chesterfield is broadly recognized as the national prototype for how to (make) local government better. That wasn't necessarily the case in 1979."
Before becoming administrator in 2007, Stegmaier spent 10 years as deputy county administrator for management services. Before that, he was director of the county's Budget and Management Department beginning in 1986.
"I don't think people realize how important stable government is to quality of life. But I believe it's fragile and it's never going to be any better than the quality of people who go into public service. The only way we preserve what we have is if we have people - good people - who are willing to do the right thing and serve others," Stegmaier said.
Stegmaier is proud that in spite of the downturn of 2008, he was not only able to keep Chesterfield on a steady course, but also oversaw the county's strongest period of economic development in the aftermath.
"There was a guy in the business community who said, 'Jay, just don't participate in the recession.' I thought, he's nuts, but then I realized he is right," said Stegmaier, flashing a boyish grin. "If we go on acting like it's a terrible time and we can't do anything, we're doomed. We've got to go into this thing looking at it from the perspective of where are the opportunities and take advantage of that. Changing that mind-set was so critical."
But he had a plan and, when the economy collapsed in late 2008, Stegmaier thrived in his leadership role.
"The recession was huge," he said. "But I think it wasn't as rough for us. We were able to convince a lot of people that every time is a good time to invest as long as you know what to do with it."
Stegmaier pulled together the local business community and elected officials at all levels of government. While the county had to cut 300 jobs - and 500 more in the school system - sports tourism exploded in the region in the years after the recession, Stegmaier said.
Then Amazon came to Chesterfield, creating 2,000 new jobs at a time when people in other localities were out of work. Economic development peaked in 2014 with the announcement of a $2 billion investment by Chinese firm Shandong Tranlin Paper Co., the largest greenfield project ever done by a Chinese company in the U.S.
"Our philosophy goes back to no matter how bad things are, there's always somebody out there with an idea that wants to try to get something done. Let's make sure that there's no place he can find that's better than Chesterfield County to bring his idea to life," Stegmaier said.
"It was almost like a strategic game in some ways, but that strategy for economic development was a neat thing ... to see Chesterfield just hit success after success after success."
But there are continuing challenges facing Chesterfield. The county that Stegmaier leaves is very different from the one he came to. Of the 77,000 people residing in Chesterfield in 1970, white residents made up 88.5%, and 41.2% of residents were younger than 19. Of today's 337,000 residents, 35% of residents are minorities, and 29% are younger than 19.
"Chesterfield, like the rest of the country, is reflecting changing demographics around nationality, cultural background, race and so on. All of that enriches us. That blending of cultures is a big part of what has made America such a special country over time./p>
"Our comprehensive plan needs to be stronger in terms of responsiveness to changing demographics. I don't think it is as responsive as it could be to those demands and signals that are coming at us from the social environment," he said.
"There is a lot of work in the pipeline," Stegmaier said. "I really believe that organizations have characteristics of biological, organic structures. They're constantly changing, and they are either growing and becoming stronger, or they are in decline. But they are not going to stay where they are, and Chesterfield is not going to stay in the place that it is in today as I go out the door."
"I am really going to miss the people here, but I've been living in a fishbowl for 37 years and I'm done with that," he said. "But I haven't lost a bit of my passion of making government better. I am happy to help, but I'd rather be the man-behind-the-man than be the man right now.">


---
RFC Takes on Redistricting - click for news and information.
Richmond First Club
Monthly Luncheon

Oct. 12, Jay Stegmaier, newly retired Chesterfield County administrator

The public is cordially invited to join us at our next Lunch Meeting.


Willow Oaks CC - 6228 Forest Hill Avenue., Richmond, VA
$25 guests and the public/ $20 for members
Reservations, email: emglazier1@gmail.com or call 804-358-0011.

Membership Application click here.
Meetings are held the second Wednesday of each month unless otherwise noted. The public is invited to attend.
Missed one of our Meetings?
Click for summary of previous speaker presentations.
RFC board meeting - immediately after regular meeting.