---
Welcome to the Richmond First Club. Join our members and guests for our series of speakers, the second Wednesdays of the month, at noon at Willow Oaks Country Club, see calendar at left. The club's purpose is to generate conversation among knowledgeable regional leaders and residents on current topics of civic and public affairs.
---
May 10
Reginald Gordon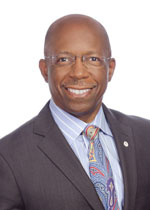 Reginald Gordon is a native of Richmond and attended public schools here. He is a graduate degree from Duke University in public policy and his law degree from Howard University.
He began his professional career as an attorney for Central Virginia Legal Aid in Emporia. After that he was employed by the national Red Cross in Washington, D.C. as an in-house counsel biomedical attorney. He eventually became a Senior Associate General Counsel and the national Ethics Officer.
He returned home to Richmond in 1997 and worked as a fund developer with the United Way of Greater Richmond and Petersburg. He was selected in 1998bas the first executive director of Homeward, the coordinating organization for homeless services in the Richmond Region. After seven years with Homeward, he became the executive director of William Byrd Community House, a multi-service poverty prevention agency, addressing the needs of low income children, families, seniors and single adults in the city.
In 2007, he became the Chief Executive Officer of the Greater Richmond Chapter of the American Red Cross. His territory expanded over the years. When he left the Red Cross in 2016 he was responsible for Red Cross operations throughout the Commonwealth of Virginia.
Gordon became the Director of the Office of Community Wealth Building for the City in 2016.
He is a past chair of the board for Leadership Metro Richmond. He is currently on the boards of Bon Secours Healthsource, Bon Secours Health System, Richmond Memorial Health Foundation, and the Virginia Blood Foundation. He is a member of the Richmond Rotary and a founding member of the Ujima Legacy Fund. He is also an assistant professor in the School of Professional and Continuing Studies at the University of Richmond. He is married with two children.
---
RFC Takes on Redistricting - click for news and information.
Richmond First Club
Monthly Luncheon

May 10 - Reginald Gordon

The public is cordially invited to join us at our next Lunch Meeting.


Willow Oaks CC - 6228 Forest Hill Avenue., Richmond, VA
$25 general public and the public/ $20 for members
Reservations, email: emglazier1@gmail.com or call 804-358-0011.

Membership Application click here.
Meetings are held the second Wednesday of each month unless otherwise noted. The public is invited to attend.
Missed one of our Meetings?
Click for summary of previous speaker presentations.
RFC board meeting - immediately after regular meeting.