Community Service Since 1919
Richmond First Club's founders shared a vision of a permanent public affairs organization to inform the public and political leaders about a broad range of civic issues, policies and solutions. This spirit of enlightened activism that initially inspired the formation of the club in 1919 lives on in the club's active involvement in current issues in the Richmond metropolitan area.
Vision
To be the leading public affairs organization supporting research on major civic issues and policies affecting the Richmond metropolitan area by providing a forum for discussion, raising public awareness, and advocating solutions on a nonpartisan basis.
2017-18 Officers, Directors and Student Advisory Board
President - Jane Helfrich
Vice President - Karen Owen
Secretary - Peggy Friedenberg
Treasurer - Louis Matherne
Membership Chair - Ruthie Roberts
Communications Chair - Evelyn Glazier
At Large - Sam Seeley
At Large - Margie Crowder
At Large - Don Retzer
Past President - Cherry Peters
Meet our Officers and Directors

Jane Helfrich, President, has been in the nonprofit world since 1982 in Richmond and has served in her current position of CEO for Richmond Metropolitan Habitat for Humanity for the past six years. She has also been in professional positions as executive director and/or resource development for Friends Association for Children, the Junior League of Richmond and Better Housing Coalition. Jane arrived in Richmond after she graduated from college in 1971 to work for A.H. Robins. She also spent 16 years as the administrator of the Virginia Mental Health, Mental Retardation, and Substance Abuse Services Board. Jane is the mother of two daughters and has one grandchild.

Karen Owen, Vice President, had a 41-year career in librarianship, publishing and journalism. Her stops along the way included the University of North Carolina, Florida State University, Media General, the Richmond Times-Dispatch and several years on the editorial board of The Free Lance-Star (Fredericksburg). For a five-year period, she ran her own company, Van Neste Books, publishing literary fiction. In retirement, she continues to work as a freelance editor of fiction and nonfiction. She was a member of the first class of full co-education at the University of Virginia, taking her degree in foreign affairs in 1973. She and her husband, Howard, happily reside in the city of Richmond.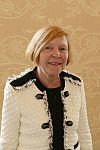 Peggy Friedenberg, Secretary, was employed by the Virginia Department of Social Services and was an advocate at the General Assembly and with the Va. Congressional delegation for all social services issues including Americorps and Earned Income Tax Credit. She was staff to the Committee on Human Services for the Virginia-Israel Commission. A graduate of Penn State, with master's studies at VCU, Peggy began her career at the New Jersey Division of Youth and Family Services. Currently, she advocates on the state and federal level for AARP.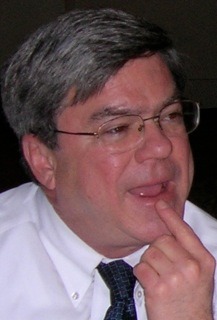 Louis Matherne, Treasurer, a member of RFC for more than 25 years, he was formerly CFO of Virginia Blood Services and treasurer of Chesapeake Corporation. Now a resident of Rocketts Landing, Louis recently became engaged and will be married in the coming year.

Evelyn Glazier, Communications Chair, retired in 2010 from a 30-year career in state and regional economic development research. She grew up in Cincinnati, earned a degree in economics from Vassar College and a master's in economics from the University of Virginia. She has lived in Richmond since 1975. She is a longtime member of the League of Women Voters where she is on the board.

Ruthie Roberts, Membership Chair, taught French for 40 years at St. Catherine's School, St. Michael's School, The Collegiate Schools and Richmond Montessori. She was a longtime facilitator and board member of Leadership Metro Richmond, a director of Partners in the Arts for the Arts Council of Richmond, on the Chesterfield County Community Services Board, the Richmond Folk Festival Steering Committee and the State Task Force for Virginia Quality Education in Science and Technology. She is a graduate of Longwood University and has a master's degree in Human Resource Development from VCU. While living in Belgium she earned a Cerfificat at the Ecole Benedict, Brussels.
Board Members

Margie Crowder is a transplant from Columbus, OH, who moved to Midlothian about five years ago. Born and reared in the South (Louisiana and Tennessee), she went to Ohio State University for a master's degree in higher education administration. She married, graduated with a law degree (also from Ohio State), raised two kids and had a varied 36-year legal career. This included litigation partner in a large firm, Legal Aid, Americorp attorney in an Appalachian Domestic Violence Project, and Court Program Development and Management at The Ohio Supreme Court. In 2011, she reconnected with a dear friend from her first year at Carson Newman College, Don Retzer. They married and she moved to Midlothian where Don had lived for many years.

Don Retzer is retired from two vocations--Christian ministry and organizational psychology. For 20 years he served as senior minister for two churches in Virginia and spent limited time as an organizational development consultant. The last 20 years, his primary work was in his consulting practice with only part time responsibility as a pastor. His consultancy served such local entities as Anthem, General Medical, C.C.A., BB&T, Luck Stone, Woolfolk Properties, Universal Corp. and several state and county agencies, as well as a number of other clients nationally and in Canada. He has taught at VCU., UR. and John Tyler Community College. His graduate training is primarily from Union Presbyterian Seminary and Duke University.

Sam Seeley has worked in public relations for more than 20 years mainly running her own public relations consulting firm. She was born in Virginia and graduated from Furman University with a degree in art. Recently she went back to school to study politics at the University of Virginia, receiving a master's degree. She has been an adjunct professor for more than 12 years, now teaching communications in the VCU School of Business. Sam served as president of RFC for two terms, 2011-13.

Cherry Peters, Past President, retired after a 40-year career in technology with The Computer Company, Reynolds Metals, Dominion Virginia Power and SunTrust Bank. She recently served as the Interim Executive Director of FRIENDS Association for Children. She has a bachelor's degree in physics from Butler University. She serves on several boards in the Central Virginia area, including officer positions with MEDARVA Healthcare (Treasurer) and Little Keswick Foundation for Special Education (Vice-Chair), and as an Elder at Second Presbyterian Church.,
Meet our Student Advisory Board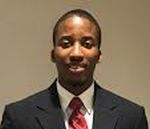 Julius Brown - Chairman - a driven student, Julius is studying towards a BA in Finance at VCU. After serving as a leader in organizations such as Collegiate 100 and Boy Scouts of America, he acts on his interest in the surrounding community frequently. He has served in VCU's Student Government Association as a senator in addition to working in the VA House of Delegates for several successful state legislators of both parties. As the founder of a Richmond culture-focused website and a past radio show host, Julius is a multi-talented scholar with a range of goals to accomplish in his years ahead.
Daniel Terra - Immediate Past Chairman - was born in Washington, DC and received an associate's degree in psychology before transferring to the VCU School of Business. He is currently a senior finishing a degree in marketing. He is fluent in Spanish and has visited over half the countries in Central and South America. Additionally, he enjoys being involved with the Hispanic and Latino communities. His interests include both experiencing new cultures by traveling and playing on the VCU club soccer team. Upon graduation, he plans on utilizing his knowledge and experience by pursuing a career in real estate.
Xiti Amin - was born in India, but raised in Virginia, Beach, VA since the age of six. She is currently a senior at Virginia Commonwealth University pursuing her Bachelor's in Accounting in the School of Business. She is an Accounting & Analytics intern at the Virginia Hispanic Chamber of Commerce. She also serves as the Public Relations Chair of Alternative Spring Break at VCU where she organizes domestic and international trips which take place in the month of March, where students are chosen to go volunteer for a variety of causes. She wants to give back to the community as well as volunteer for the upcoming election polls. For fun she likes to try new restaurants, play badminton, and binge-watch shows on Netflix. She will graduate in May 2017 and she hopes to get her CPA Certification in the near future.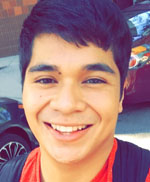 John Somarriba - is excited at the opportunity to be a part of the Richmond First Club. Originally fro Reston, VA, he is now enjoying his second year in Richmond at VCU. He is proud to be a part of the School of Business, where he is currently pursuing a Bachelor's of Science in Marketing. It was here that he was introduced to the RFC and its activities as a student in Professor Seeley's communications course. It has been a wonderful experience attending the meetings and learning a wide variety of topics from each new guest speaker that the club hosts. It is an experience he believes will assist him while he continues his education at VCU and in the future. Ultimately he plans to work for a non-profit organization, making genuine positive change while upholding ethical and respectful practices.
Joel Zeballos - is a senior at VCU studying Marketing at the School of Business. In addition to the Richmond First Club, Joel is an active member of Alpha Kappa Psi the oldest and largest Professional Fraternity in the United States. He is also involved in the community serving as an External Affairs Chair for PLUMAS, a social justice organization that brings together students and faculty to inform and involve them in the issues that surround people of color. Joel grew up in Alexandria, Virginia. Living in Richmond since 2013, he enjoys being outdoors, the city's amazing art scene, and meeting new people.